The HTC Rhyme is a compact cell phone that has a fantastic camera on it. This camera is so great that if the company let me keep the phone, I would halt my search for the perfect point and shoot camera. A search which, by the way, has been perplexing me for months. While exploring the Disney Fantasy, I got to review this camera…I mean cell phone.
The camera has a number of settings that help you take beautiful pictures while on vacation or just out and about in your own town. You can adjust the ISO, white balance, resolution, and more. You can auto upload your pictures to Facebook or Flickr.  There are scenes that you can choose from like portrait and landscape. There is an action burst setting that takes five pictures, one right after the other to help you capture those perfect sports pictures. There is an option for close-up and low light. There seems to be an option for just about everything. My favorite setting to try was the panoramic.
You can also choose from several effects that will change the look of your picture such as distortion, grayscale, sepia and more.
The pictures looked pretty great in the phone and it was nice to have a small camera to use when I didn't want to carry around my DSLR but I wanted to see how the two stacked up against each other.
To do that, I took a number of pictures with both the HTC Rhyme and my DSLR (with a 28-80mm lens) while standing in the same spot. These are all straight out of the camera or phone with the automatic function. There was no post-processing (besides adjusting the image size). Can you tell which picture was taken with the cell phone and which was taken with the camera.
I should probably disclose that I am already an Android fan and for the past two years my phone has been a Droid. As for the phone features, I didn't make any phone calls with it but I did set up the WiFi while on the ship. I was able to pull up a search page, check email and send out a tweet on it.
It sounds great doesn't? The BIG downside?
The phone does not have a slide out keypad, which is something I depend on greatly.
It does however take a pretty decent self-portrait…or at least one that I like enough to share on my site. Don't I look all relaxed from my working vacation?!
Stop by Delicious Baby to see other Photo Friday submissions!  I am also participating in Friday Daydreaming over at R We There Yet.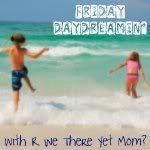 *This post is sponsored by HTC. Thank you to HTC and TravelingMom.com for giving me the HTC Rhyme to try. I will be returning the phone to the company next week.  Thank you to Disney and Traveling Mom for providing my cruise accommodations. I paid for travel there and back as well as other expenses. As always, opinions are mine and mine alone.